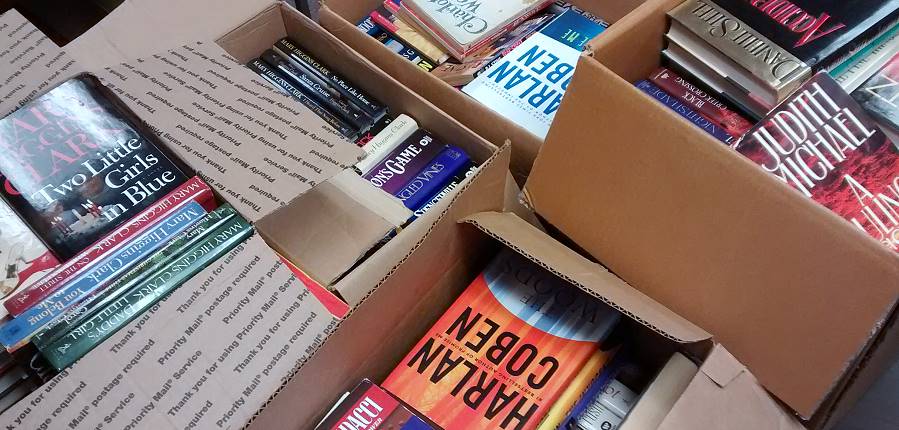 We welcome donations of books, puzzles, DVDs and CDs (music or audiobooks), either to add to our collection or to be sold at the Friends of the Library book sales or in the Book Sale Nook (located inside the library near the lecture room). We especially appreciate books, DVDs and CDs released in the past year, since that allows us to offer more copies of bestsellers while they're 'hot' and still stay within our budget.
Unfortunately, we can't accept all materials and sometimes have to turn items away, so here are things to keep in mind before you pack up your trunk:
Materials we DO accept (up to four boxes at a time of items in good condition only, please; see below):

Fiction hardcover and paperback books
Nonfiction hardcover or paperback books
Music CDs
Audiobooks on CD
DVDs
Puzzles

Materials we DO NOT accept:

Condensed books (like Readers' Digest)
Textbooks
Audio cassettes
Videotapes
Magazines or periodicals
Encyclopedia sets
Items in good condition can be brought into the library during business hours. We have carts and a hand truck available if needed. Please do not place donations in the library's book drop or leave them outside the library. 
If your items are not in good condition (see below) or are on the 'materials we do not accept list,' please deposit them in the large blue 'Discover Books' bins located near the entrance to the parking lot. Discover Books compensates the library for your donations, then redistributes them to literacy and community-based organizations, resells, or recycles books as appropriate.
Items must be in good condition. If they've been stored in basements or attics, they're most likely unsuitable, unfortunately. If books are dirty, moldy, worn, damaged, or contain notes or highlighting, we won't be able to use them. Likewise for books with detached covers or missing pages.
We accept items year round.
The library is a 501(c)3 tax-exempt organization, and we will give you a receipt for your donations, but we are prohibited from placing a monetary value on them. Please keep a count of hardcover books, paperback books, DVDs and CDs for your receipt.
Donated items become the property of the library and can't be returned.
If you have a large quantity of items to donate  (more than four boxes), please call the library first. We evaluate books carefully and have limited storage space while they're being processed.
If you have items that don't meet these guidelines, here are three options in addition to the Discover Books bins in our parking lot:
You may want to contact Goodwill, American Family Services, or other charitable organizations. They may be open to taking your items depending on their needs and guidelines.
The Allentown Recycling Center is open to all Lehigh Valley residents.
Finally, you may want to channel your inner Martha Stewart and make something cool with our old books. There are some amazing ideas in there. Holiday gifts, anyone?
Have questions about items you want to donate? Email emmauspl@cliu.org or give us a call at 610-965-9284.