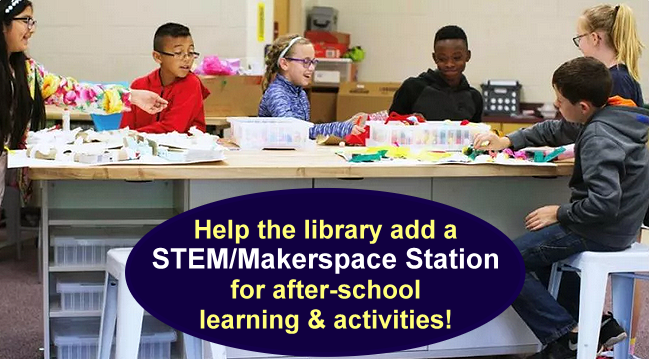 Young minds learning, tinkering, inventing and collaborating — that's the vision for a new Makerspace/STEM workstation we hope to add soon in response to patron requests on last year's online survey.
The sturdy new workstation will provide a dedicated space with ample work surface, storage and seating for children and teens to build, explore, and create after school and on Saturdays — solo or in teams. Could the next Da Vinci, Doudna, or Jobs & Wozniak be in our midst?
As this falls outside of the library's 2021 budget, we've secured grants from Ocean Spray and the BB&T Foundation to cover more than 70% of the cost. We've also received some great kits, iPads, and two laptops through a state-sponsored program — all just waiting to be unwrapped and put to use — but we need your help to raise the last $1,652 and get over the finish line. We're almost there.
Please visit the gofundme page to help bring this worthwhile project to life at EPL — and thank you!