You see a new book you want to read posted on our Facebook page, but you can't make it to the library right away. Or a friend recommends a movie and you want to reserve it for a cozy night at home. Hop online and place a hold!
If the item you want is available, we'll hold it for you at the circulation desk for up to four business days. If the item is currently checked out to another patron, you'll be placed in a queue and notified when it does become available.
Any item in the library that circulates can be reserved. Here's how:
Start by going to the homepage and logging in to your online account with your library card number and PIN (your 4-digit password). If you're not sure how, check out this earlier post that walks you through the process.
On the next screen, search for the item you want to reserve. If you have an exact title, place it in quotes and select 'Title' in the 'Type' pull-down menu. This will narrow down your results. You can also select a 'Format' if you like — such as "Large Type Book,' 'DVD,' etc.
When you find the item, click on the title or cover image and you'll be able to see if it is available and whether there are any other holds on it (see dashed boxes below). If the item is checked out, you can also see when it's due back. In the example below, the book is currently checked out, due back on 2/11/2022, and there are 40 other holds on it. To reserve it, click on 'Place Hold' along the right side.
On the next screen, select how you want to be notified when it's available — email, phone or text message — then click 'Submit.'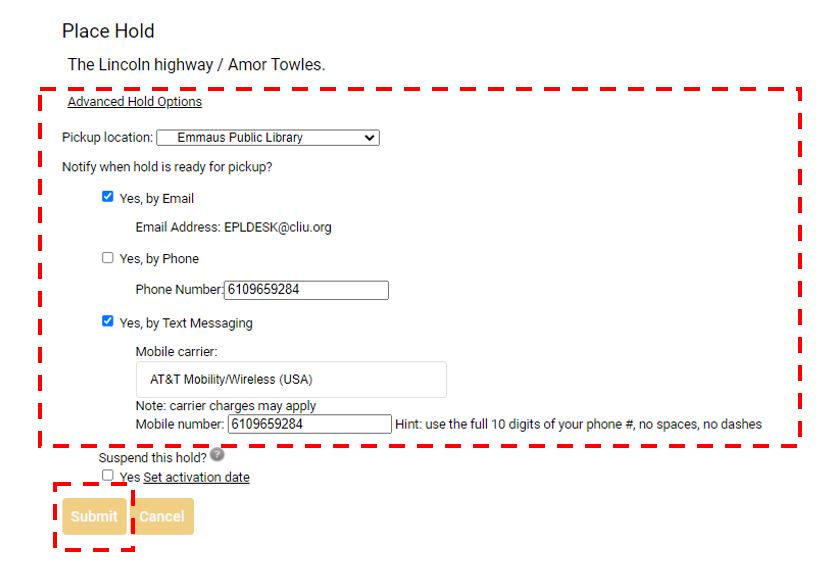 You will get confirmation on the next screen if the hold goes through, and when your item is ready for pickup you'll be notified by your chosen method. If your hold request is not successful, though, or if you have trouble reserving an item online, give us a call at 610-965-9284. Please have your card number handy and the title of the item you're requesting. You can also place holds in person at the library.
Have questions? Leave a comment below, stop in, or give us a call. We're here to help. You can even schedule a free 30-minute appointment with a librarian who will walk you through this on your device and at your pace.
Next time, we'll go over how to create lists in your online account for all those books you plan to read someday!