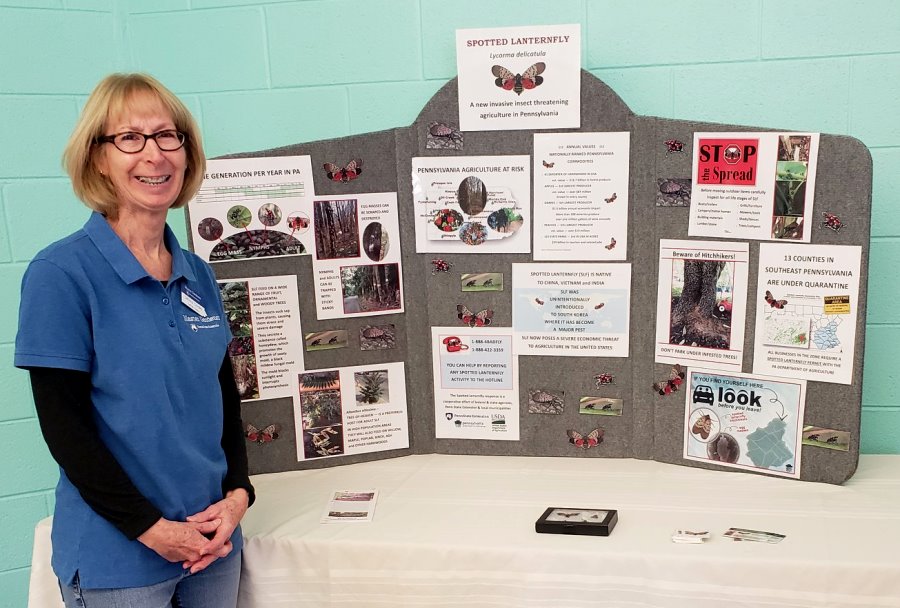 They're outdoorsy, indoorsy, in the know and on the go. They travel and bake, stitch and paint, create and educate. Lucky for us, they somehow still find time to volunteer at EPL. Today, we're sharing the sixth in a series of profiles shining the spotlight on them. Go here if you missed Ricki, Johnny, Karen, Linda, or Chris.
When Debbie's not volunteering at the library, you're likely to find her hiking, biking, skiing…or digging in dirt. As a Master Gardener, she not only applies her green thumb to cultivating a great garden, but also shares her knowledge with others through the Penn State Lehigh County Extension. Just this week, she presented a talk on spotted lanternfly at the library to help area residents combat this invasive species in their yards and gardens.
How long have you been volunteering at the library?
Two and a half years.
What do you do as a volunteer?
I work at the front desk checking materials in and out. I also register new patrons, help them look for books, answer questions, do some shelving, etc.
What inspired you to volunteer with us?
I have wanted to volunteer at the library after I retired to help out in our community.
Have libraries played any special role in your life?
Yes, the library has always played an important role for researching information and enjoyable reading, as well bringing our children and grandchildren to the library for all the resources it offers.
Tell us a little bit about your background.
I was born in Bethlehem and lived there until I was married. After that, we moved to the Emmaus area. We have two children who attended Emmaus High School and two grandchildren who live in Connecticut. I retired from the Internal Audit/Compliance department at Lehigh Valley Health Network and have been busy ever since!
We love traveling in the U.S., and last year took a five-week trip out west to a number of our beautiful national forests. It was our third trip west and always an incredible experience. We are so fortunate and blessed to be living in the USA. We are looking forward to our next trip to Maine and Nova Scotia.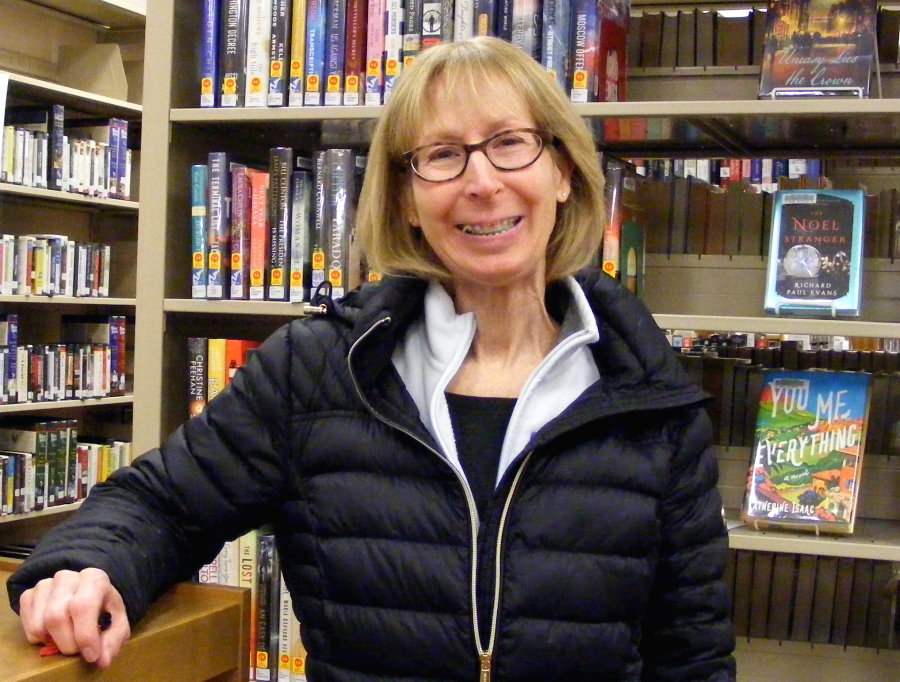 What are your hobbies or interests outside of work and/or volunteering?
I have a number of hobbies that include gardening, bird-watching, hiking, biking, skiing, reading, baking — and especially now — teaching our grandchildren how to cook and bake.
I also volunteer for St. Ann's Church in the grief ministry.
I also became a Master Gardener volunteer for the Penn State Lehigh County Extension Office because I wanted to help educate our community on how to become better land stewards and gardeners, whether they use flowers, trees, vegetables, etc. Aside from that, I wanted to become a better gardener and gain more education on how to use native plants and help our pollinators in our own gardens. I provide research-based information through Penn State for spotted lanternfly management, using native plants in gardens, and do poison prevention presentations to local elementary schools. All of the volunteer activities must have an educational or teaching component.
I'm also performing an experiment with two other master gardeners, using native groundcovers to suppress weeds in a few beds at a community garden in Whitehall.
How does one become a Master Gardener?
Anyone can find out about the Master Gardener program by contacting their local Penn State county extension office (click here for the Lehigh County office, and here for information on becoming a Master Gardener).
[Note: The Penn State Extension website offers a wealth of information for home gardening as well, including almost 600 articles, plus videos, webinars, online courses and in-person workshops, most of which are free or low-cost. Want to learn how to create a pet-friendly garden, attract hummingbirds, have a standout lawn, or figure out why your fruit tree has no fruit? It's all there and more!]
What are your top three tips for a great garden?
Plan and research before you plant (…see aforementioned Penn State Extension 'home gardening' page.)
Use the right trees, plants and vegetables in the right sites
Use native plants to help our pollinators and wildlife.
Do you have a favorite book or author?
A few, but I will mention one in particular: A Man Called Ove by Fredrik Backman.
Lightning round! Favorite place(s) you've been to:
Northern rim of the Grand Canyon, Zion, Grand Tetons and Maine.
Place you most want to travel to:
Lighthouses up the northern Pacific coast.
Last book you read:
Bertie Plays the Blues by Alexander McCall Smith.
Any parting thoughts?
Love volunteering at the library, love our librarians and everyone who works or volunteers here!
_______
Do you have a special interest or talent that you'd like to share with others? Would you like to lend your energy to the library in other ways? Stop in and ask for a Volunteer Interest form at the desk!
[Disclaimer: the views, information or opinions expressed in 'Meet Our Volunteers' interviews are solely those of the volunteers and do not necessarily represent those of the library or its employees.]